I had a great pair of shoes that were a faux leather metallic mint green. I wore them into the ground and they got so scuffed and sad I considered throwing them away. Then I realised they had potential for a second life. So I painted them a bright metallic lime green. And I wore them into the ground again (and got LOTS of comments along the way).
I was going to paint them green again then I thought perhaps they had potential for a third life.
So I painted them the green again, then COVERED them in
green glitter
!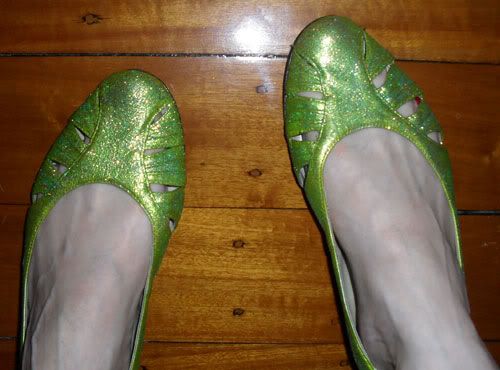 So how did I do it?
I covered the entire shoes with
binder medium
using a large paint brush, then while still wet, I sprinkled the glitter on small amounts at a time, tapping the excess off and spreading the glitter evenly with a paint brush.
When that layer dried, I applied more medium, then more glitter until I was satisfied with the thick coverage. Then when dry, I applied further coats of the binder medium to seal the glitter.
It's very messy work so I had my table covered in newspaper! I still got glitter all over myself though!
They are seriously sparkly! The photos do not do them justice! I'm a total glitter junky.
I have already worn them a few times and they are holding up well, with minimal glitter loss.
I'm not sure of the longevity of my work, instead it's all about prolonging the life of a great pair of shoes in an imaginative way!
I have even glittered another pair of shoes, this time a pair of heels in holographic silver glitter. Photos coming soon!